Being in the design industry, I have learned that all those who told me that it is an extremely competitive field were right. However, I argue that I can be just as creative when it comes to driving clients to my business as I can with design. Now there are many ways to accomplish this goal, I found that focusing on a B2B platform like LinkedIn drives some of the best results.
LinkedIn is a great resource for pulling in new clients if you are smart about operating it. LinkedIn is one of the best-performing platforms for business-to-business networking. Businesses have found that the distribution radius of their content is larger than if they were to share it elsewhere.
When I started my business, I assumed a majority of the marketing & networking focuses on business-to-customer (B2C). During a long period of trial & error, & much-needed advice I learned that a good portion of my marketing & networking should be B2B. After great success finding clients through LinkedIn, I wanted to share my process & how it can work for you. Read on to learn how to get design clients on LinkedIn.
This article was originally published on https://www.aaloftsdesign.com. If this article appears on any other site other than https://www.aaloftsdesign.com without clear referencing it is a violation of the copyright owned by https://www.aaloftsdesign.com.  
This article may contain affiliate links. That means if you click & buy a product, I may receive a small commission at no extra cost to you. AALofts Design is a participant in the Awin Affiliates program, an affiliate advertising program designed to provide a mean for sites to earn advertising fees by advertising & linking to participating merchants. For more information, please view my Privacy Policy & Terms & Conditions Pages.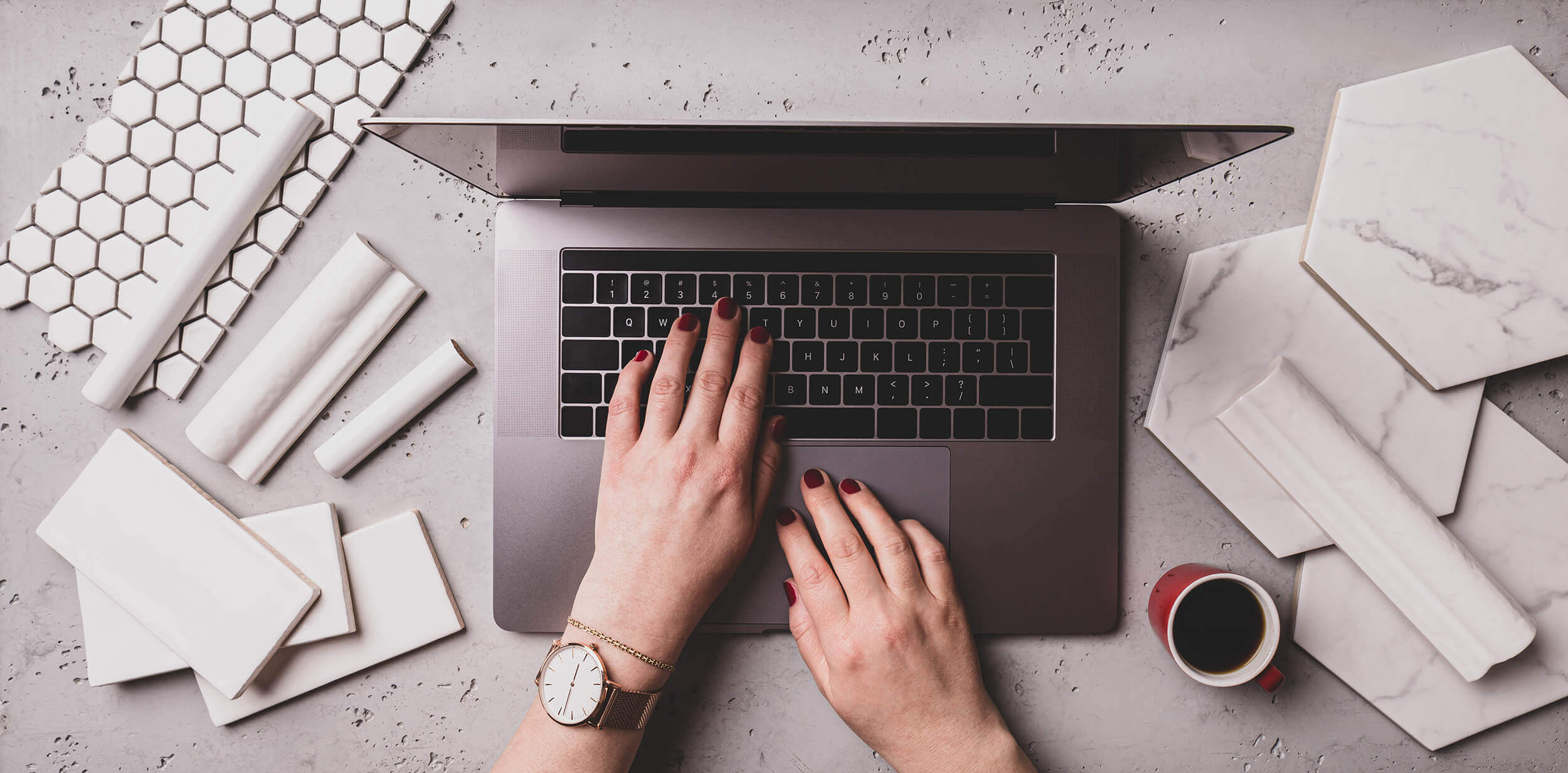 How to Market & Network on LinkedIn.
The best way to begin is to understand how LinkedIn works. The content on LinkedIn is more professional & informational than it is fun & entertaining like Instagram or TikTok is.
Once I began thinking of LinkedIn as a resume for myself, or like the about us page on a website, I began to understand exactly where I needed to start.
Setting Up My LinkedIn Design Profile
Like when starting any new social media account, the profile set up was the first step to complete on my path to reaching new clients.
As I mentioned earlier, LinkedIn is for the professionals, which means my wording, profile picture, & header picture, all had to represent myself & my business in a marketable fashion.
In order to sell what your business has to offer; you first must sell the business.
Prospect Hunting
This step required that I do a little background work before diving into the thick of it. Before I could begin reaching out to anybody & everybody in the hopes of creating a new business relationship, I had to make sure that it would be a meaningful one, otherwise, I would be wasting their time as well as mine.
This required that I take the time to do market research within my industry. In order to conduct proper research within the industry my business falls under, I decided to follow a few steps:
Decide the type of audience that I will be reaching out to.
Establish the habits, likes & dislikes, characteristics, & challenges of my audience.
Finding who in the industry was my main competitor.
These are a few of the most important details that I as a business owner can decide when creating my brand & business. After I understood the audience that I want to attract to my profile, I then had a better idea of who I would have a better chance of creating a new, solid business relationship with.
As I began my outreach, I decided to look to connect to those that would be in the position of power: the CEOs, presidents, & HR positions. They would be the sources that would accept or deny my efforts in gaining a new business client.
When a Client Accepts Your Connection Request.
I knew that once a client accepted my connection request, my thank you message would be the first opportunity at creating a good & impactful impression. I found that within this message the best approach was to keep things friendly & casual, jumping instantly into a sales pitch instantly sours the potential of the dynamic.
Solidifying the New LinkedIn Connection
After the moment that I made my LinkedIn connection, I decided to allow some time to pass. After about a week, once I got a chance to get familiar with the type of content that they post & vice versa, I reached out by addressing a commonality I discovered that my potential client & I shared.
What this angle does is establish the potential solution I as a partner offer with no pressure of expectations. There are few ways that I could complete this step, my favourites are usually to share my blog articles or sharing my portfolio links. This allows the opportunity to share more of the personality behind the professional persona that is given at the initial introduction.
When seeking out potential clients, I made sure to engage & contribute to the postings of the people I followed & the people that followed me. There are a couple of ways to do this. I could post on the home feed, or seek out more exclusive groups that fit my, & my potential clients, audience.
Do Not Bombard New Contacts with Information
Now that I had established a method for how I should be reaching out to potential LinkedIn clients, now I needed to narrow down the best type of content to show them that was specific to the niche both of our interests fall in.
Creating content for a brand is not a one-size-fits-all. I had to be selective with what I chose to post, as well as make sure it was relevant & on brand.
Since I am in the design industry, my method of content falls heavily on the visual first, & the informational second. I found that the best content that met my needs was a portfolio of pictures & videos, with articles that assist with the story that I am trying to tell.
Creating Still Imagery Content
Still, imagery is still king when it comes to selling a brand. It has been around for decades & shows no sign of going anywhere. When I take my product photography, I really enjoy styling the product or putting it in a setting that shows how versatile it is, & can be.
Creating Video Content
When it comes to creating a video, I like to focus on the details. Video adds an interest that a still image isn't able to capture. With an image, still or moving, usually you can tell the texture of the object, but with video, you can show more of its character:
How it moves
How it shines
How durable it is
This really helps to sell the promise & tone of your brand to a client.
Creating Informational Content
By now, I know having a strong brand story will make or break a business. That is why my third content focus goes to the written word. Writing articles to go with my visual content helps in two ways, it steers the audience in the direction of actually understanding your brand versus just interpreting it, it also aids as a big traffic driver to my site.
Consistency Brings Clients.
As I strived to bring in new clients, I knew I had to take everything that I have learned & be consistent with it.
It will take time to see new client relationships bring benefit to a business, but I did find setting schedules to remind me when to reach out to prospects as when to create & post content, set me up for the best success.
Conclusion.
Finding clients through LinkedIn is not anything that I would want anyone to expect to happen overnight. It takes research, creating a plan, execution of that plan, & consistency. Finding a brand's core audience is an important first step, it will lead the way in forming the rest of a plan. When creating content, remember what its purpose is.

Content creation has a goal, & that is to accomplish your goal. From videos to ebooks, to podcasts, there are a number of ways to teach a person about what your brand has to offer, but using the outlet that will carry the message in the most effective way will be where success is found.
Sources:

https://www.linkedin.com/business/sales/blog/prospecting/7-steps-attract-more-clients-with-linkedin
https://www.mstechplus.com/interior-design-content-marketing-ideas/
https://blog.hubspot.com/marketing/b2b-marketing

If you're interested in further reading, please see the links to my trusted resources page & related articles below. To find out more about AALofts Design, please click here. If you found this content helpful, want to collaborate on a project, or would like to request an article topic, please click here to get in touch via the contact form. Feel free to share & connect on social media, if you found this content helpful.